Harvest Moon: Back to Nature is the fifth installment of the Harvest Moon series. It was developed and released by Victor Interactive Software for Japan and translated to English by Natsume. It is the only game developed for the PlayStation in English, as well as the first Harvest Moon game for a non-Nintendo console. It was released in Japan on December 16, 1999 and July 31, 2000 in North America.
The Story
[
]
The game begins with your character arriving to a farm owned by your grandfather which full of debris. A flashback then occured, which brought you back to when you were there playing on the farm in your childhood. Your character then met a little girl and became friends with her. When the summer was over and you had to go back home, you promised the little girl that you would come back one day. So when your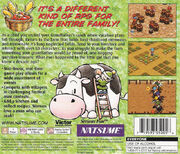 characters grandfather died you came back to the farm to talk over. With that the mayor had talked it over with the villagers and told you could stay and restore the farm in three years, If you failed to do so or you made the villagers dislike you, then you have to leave.