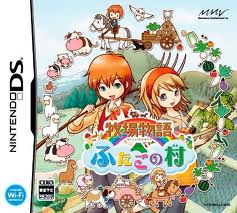 Release Date
Edit
Harvest Moon: The Tales of Two Towns, aka Harvest Moon: Twin Villages in It was released in Japan on July 18, 2011. Natsume, Inc. of America in the USA and Canada released the English version of this game in November 1st of 2011.
Console Information
Edit
Japan only received a DS version, but America will be getting a DS and 3DS version of the game. Additional features in the 3DS version that have been confirmed by Natsume are the ability to use the 3DS's StreetPass feature and utilize 3D graphics. There is also a Petting Game for your animals to help raise there hearts. Everything else is still the exact same, including graphics, albeit supporting 3D views on the 3DS, of course, hence why it will take longer than it would have initially been.
Note: The English 3DS version of this game is landlocked. This means this will only work on a 3DS bought from U.S.A.
Information
Edit
Lists and list pages are UNDER CONSTRUCTION. Feel free to add to them or add more sections are appropriate.