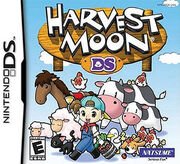 Harvest Moon DS is the thirteenth installment of the Harvest Moon series. It was developed and released in Japan by Marvelous Entertainment Inc. North America version was released by Natsume and European version by Rising Star Games. It is the first Harvest Moon game for Nintendo DS and was released in Japan on March 17, 2005. The English version of the game was released on September 12, 2006 in North America and the European version was released on April 13, 2007.
The game takes place in Forget-Me-Not-Valley, 100 years later after the time of Harvest Moon: A Wonderful Life. All characters present in the games are the great-grandchildren of the characters in Wonderful Life series, who are oddly have similar physical features and names (English version only, the names are different in Japanese version) as their ancestors.
You can put your Game Boy Advance copy of Harvest Moon: Friends of Mineral Town (GBA)(or a copy of Harvest Moon: More Friends of Mineral Town (GBA), the one with the female heroine) in Slot 2 of your DS. Doing this affects the game to have Mineral Town inhabitants come to Forget-Me-Not Valley. So, doing this lets you marry the Mineral Town Bachelorettes!