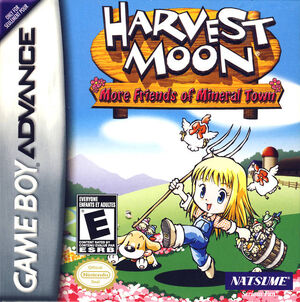 Harvest Moon: More Friends of Mineral Town is the ninth installment of Harvest Moon series. It is the girl-version of the Harvest Moon: Friends of Mineral Town and the first girl-version of Harvest Moon translated to English (as Harvest Moon: Back to Nature For Girl for Play Station was not released outside Japan). The game added some new features and extra events from the boy version. It was developed by Marvelous Entertainment Inc. and released in Japan on December 2003, while Natsume released the English localization of the game on July 2005 in United States. A European version was initially planned to follow by Rising Star, but it was canceled for unknown reason.
The opening cutscene shows the main character in an appartment building, living alone. While she's reading the newspaper she spots an ad for a mountain farm and decides that she would rather live the country life than continue in the city. When she gets to the farm she sees that it is worn down and abandoned and feels as if she's been tricked. The Mayor soon comes to welcome her and asks her if she wants to work on the farm anyway, selecting 'yes' will continue your game, while selecting 'no' will show the credits, thus ending your game.
Villagers
Edit
Section heading
Edit
Write the second section of your article here.