She is the bath house assistant at her adoptive mothers Inn . She's a cheerful girl but kind of dumb. She came to live with Shino and Sakuya after she left the ocean. She loves all fish except Squid which she enjoys killing and eating raw. She's a mermaid so she will turn into one when she gets wet. She reacts positively when the main character reveals that he's half monster by hugging him until he faints.
Family: None
Battle level: 8
Official description:
The bathhouse assistant.
Ditzy girl with a bit of
a fishy secret...
Weapon: Dekash
Reaction to liked Cologne:
Oh, Micah
you smell good!
Something fishy...or
like a bath?
Birthday :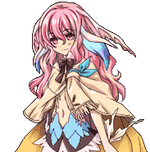 Summer 6
Love : Raw Squid and squid dishes.
Like : Fish, Apple, Orange, Grape
Hate : Fish fossil. Fish dish